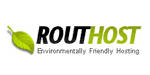 Recently, RoutHost, a Chicago based low cost hosting provider famous for its power friendly packages invited businesses and consumers to explore its server's options. The service is currently promoting its dedicated servers along with server collocation services for clients looking to relocate.
"RoutHost offers robust, reliable service in a power-friendly facility to minimize carbon offset. Plus, our web hosting plans are bolstered by 24/7 phone and live chat support based in the U.S., so individuals, enterprises, and every client in between can receive rapid technical assistance," said Levi Staal, CEO of RoutHost.
Routhost is marketing its new collocation service as an affordable way to store and power their client's existing server hardware. Its low cost hosting plan makes it possible to get benefits from higher bandwidths at lesser expense with the added advantage of increased connection redundancy.
Another popular service of the web hosting company is that their dedicated servers are available for leasing on a month to month basis both for short and long term projects. The low cost hosting service provides reliable power supplies and redundant data back-ups, with excellent customer care.
RoutHost's dedicated server support lets the clients experience the speed and the reliability without the headache of maintaining their own machinery. It also recommends its clients to get online file backup among other applications.
RoutHost is based in Toronto, Ontario with a data center that connects to the internet via 14 GB Ethernet cables and six distinct backbone providers, with 3Com/Intel NICs, Intel/AMD Processing, and Kingston DDR RAM, among other name-brand features. The green hosting company employs power backups from UPS Systems in conjunction with a Cummins generator.